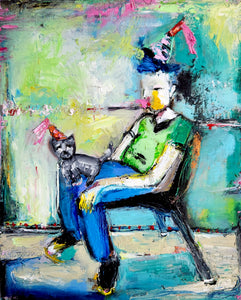 Original oil painting by Liz Vaughn, "Hints, Allegations and Things Left Unsaid." When the cat becomes a dog and everyone wears a party hat, you know that painting is officially finished.   At least that is what I am telling myself, and I like the outcome.  Figurative yet abstracted, you feel the subtle shadowing of the room as well as the stillness of the moment.  
This piece is perfect for a nook, in a collection or standing alone as an accent piece. 
Creation date 2023.
Dimensions:
8" inches wide by 10" inches high by 2" inches deep on birch panel.  Ready to hang, no frame necessary.
Material:
Oil paint, birch panel