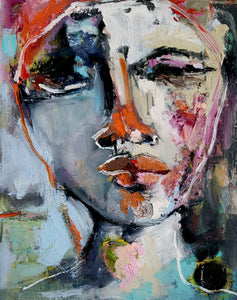 Original oil painting by Liz Vaughn, "Inner Landscapes." As I was working on my collection last year for an upcoming show, I fell in love with these small 8" x 10" birch panels.  Creating a narrative in a confined space (comparatively) forced me to focus in on tiny details.  You know, those details that catch our eye because we can't really figure out what they are?  Or they make no sense, but somehow feel right?  In this particular piece, I love  the punch of red on her nose, and the rather illusive nature of her gaze.
This piece is perfect for a nook, in a collection or standing alone as an accent piece. 
Creation date 2023.
Dimensions:
8" inches wide by 10" inches high by 2" inches deep on birch panel.  Ready to hang, no frame necessary.
Material:
Oil paint, birch panel