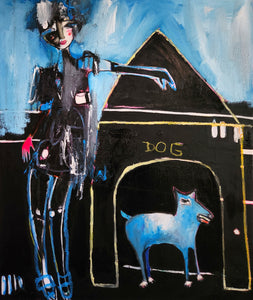 Original oil painting by Liz Vaughn. "Noble Purveyor of Vision".   There was a moment earlier in the year where I felt a "switch" flip.  My usual "go to" style of female figurative work seemed hollow, and somehow no longer engaging to me.  I am quite sure this experience is nothing new to artists, rather more of a familiar companion.  To that note, I have been reaching and stretching and allowing myself the freedom of experimentation.  I have always loved Expressionism, it feels free, natural, and uncontrived.  I feel an emotional pull, a passion, when I paint in this style that is exciting. It is this uncertainty, and at times frustration, that are guiding and transforming this current body of work.  
Created: 2022
Dimensions:
20" inches wide by 24" inches high by 2" inches deep. Painted on all sides, ready for hanging, no frame necessary.
Materials used:
Oil paint, canvas
This painting can be viewed during my opening "Unbound":
DeGrazia Little Gallery, 6300 North Swan, Tucson, AZ
December 18th, through December 30th.
*****SOLD****