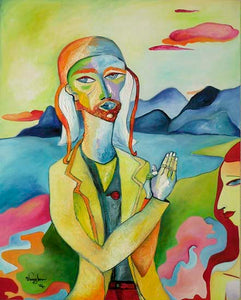 Original oil painting by Liz Vaughn. "Van Gogh Goes Gaga for Gauguin" is from a series I quite a few years ago, that interpreted the work of Master artists through my eyes and style.  This particular piece was based on Vincent Van Gogh, painted in form and style when Paul Gauguin was living and painting in Tahiti.  It is full of quirky style on so many levels, and is definitely a curiously fun narrative.
Created: 2006
Dimensions:
24" inches wide by 30" inches high by 1.75" inches deep. Painted on all sides, ready for hanging, no frame necessary.
Materials used:
Oil paint on canvas 
*Please note this painting will require additional shipping due to the size.  Please contact me for shipping pricing before purchasing. 
*SALE*
Free curbside pickup and delivery in Tucson